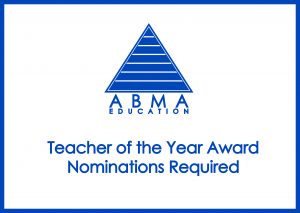 World Teachers' Day is held annually on 5th October and is centered around 'acknowledging, evaluating and enhancing the instructors of the world' and to give all of us a chance to consider the issues identified by educators and the teaching process in general. It is celebrated worldwide and brings together governments, multi- and bilateral organisations, NGOs, private sectors, teachers and experts in all fields of teaching.
ABMA Education would like to celebrate World Teachers' Day by giving our learners  the chance to nominate a deserving ABMA Education teacher for the award of 'ABMA Education Teacher of the Year'.
Nominations can be for anything you feel should be rewarded, examples include:
Going above and beyond expectations
Support and encouragement
Work in the Community
Helping learners to realise their potential
Making learning fun
Outstanding contribution, not only to their students, but to the communities or environment around them
Details of how to submit your nominations:
Nominations will need to be received by 21st September 2018 by email to info@abma.uk.com.
The winner will be announced on Friday 5th October 2018 on World Teachers' Day.
Once you have decided on which teacher you should choose, you will then need to write a detailed explanation of why your teacher is worthy of this recognition and provide examples of how their actions how affected you and/or others around you.
We would recommend that the information provided is around 250 words. Pictures or videos can also be included.
Please ensure that included in your nomination is the following:
Your name
The qualification you are studying or have studied
Your centre name
Your chosen teacher's Name
Good Reasons to Enter
There is no better way to say thank you for the work that a teacher has done. It gives teachers, and your centre, the recognition they deserve.
Teachers transform lives and help young people realise their potential, giving them the chance to achieve their aspirations.
It is your chance to shout about the great work that your centre/teacher do on a daily basis.
Winning the ABMA Education Teacher of the Year award is a celebration for the whole centre and local community.
Teachers are passionate about teaching and learning – help us tell their stories and promote teaching excellence.
ABMA Education would like to take the opportunity to thank each and every teacher that has helped our learners develop the skills and knowledge that they need to lead successful lives and positively impact the world.