Ishmael Amini studied Community Development with ABMA Education.
He has gone on to achieve an amazing amount of success and here Ishmael tells us more about his work.
Since I stepped out of my college in 2017 as a Social Worker, I have been engaged with different organisations on a contract basis, but I spent my valuable time with my organization Center for Enlightenment and Development. I have attended international summits of the World Bank and also led international campaigns such as COP26 in 2021. Am very happy that I still learn with international organizations and benefit from international views.
Center for Enlightenment and Development (CED) is a born child of an ABMA Education student in Lilongwe Malawi.
I studied the ABMA Education course of Community Development at Lilongwe CEC Polytechnic of the University of Malawi 2016-2017. Whilst studying level 4 on Organization Outcome, Values and Sociology the Idea of forming an organization flashed! The idea of establishing an organization became a reality in my level 6 i.e. my Advanced Diploma class! I saw employing myself and others. According to Carl Max, I perceived as ENLIGHTENMENT from the class of level 4 Sociology. I coined the name of the organization as Center for Enlightenment and Development.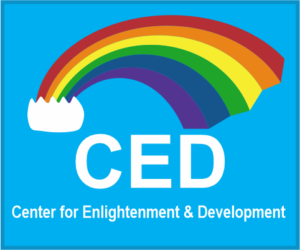 MISSION: To provide a holistic approach to mindset change on creativity and innovation, Education, Climate change, Interfaith and Dialogue.
VISION: To create a community of creativity and innovation in accordance with SDGs in sectors of creativity and innovation, education, climate change interfaith and Climate change by 2030.
ACTIVITIES
Education
I have established a private secondary school called IQRA INTERNATIONAL ACADEMY as a source of dynamic funding to achieve the vision of my organization.
Female students are given the opportunity of bursaries to address gender inequality.
Offering employment opportunities to the public i.e. teaching, ground workers, security, cookers and businesspeople.
Helping O-level students to join online universities as Malawi has a small number of universities.
Entrepreneurship 
Using Business planning and Marketing Strategies from ABMA, I train women especially, females who dropped out of school to be self-reliant. Am working on this project from Goldin Institute, Chicago, USA support.
From 2018 September to 2022, a cohort of 40 women get selected and benefit from my free business skills. In 2022, I received support from ACT UBUMBANO, Pretoria South Africa.
Climate change
Through support from Green Faith International, my organization conducts climate change projects.
I train faith and traditional leaders using project approaches learnt from ABMA in level 4 in 2016 to be models of climate resilience.
I also conduct online workshops on climate change in Southern Africa and USA.
I am working on establishing a college to offer ABMA courses and show the Community how ABMA Education courses can turn into money. I am currently studying Research at International Open University as I prepare to head the college soon!