March : Politics, Power and Community Development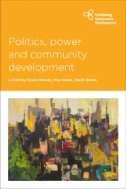 Author(s) :  Rosie R. Meade, Mae Shaw, Sarah Banks.
Relevant Unit(s) : Community Development Level 6, Unit 5.
Description
The increasing impact of neoliberalism across the globe means that a complex interplay of democratic, economic and managerial rationalities now frame the parameters and practices of community development.
This book explores how contemporary politics, and the power relations it reflects and projects, is shaping the field today. This first title in the timely Rethinking Community Development series presents unique and critical reflections on policy and practice in Taiwan, Australia, India, South Africa, Burundi, Germany, the USA, Ireland, Malawi, Ecuadorian and Peruvian Amazonia and the UK. It addresses the global dominance of neoliberalism, and the extent to which practitioners, activists and programmes can challenge, critique, engage with or resist its influence. Addressing key dilemmas and challenges being navigated by students, academics, professionals and activists, this is a vital intellectual and practical resource.